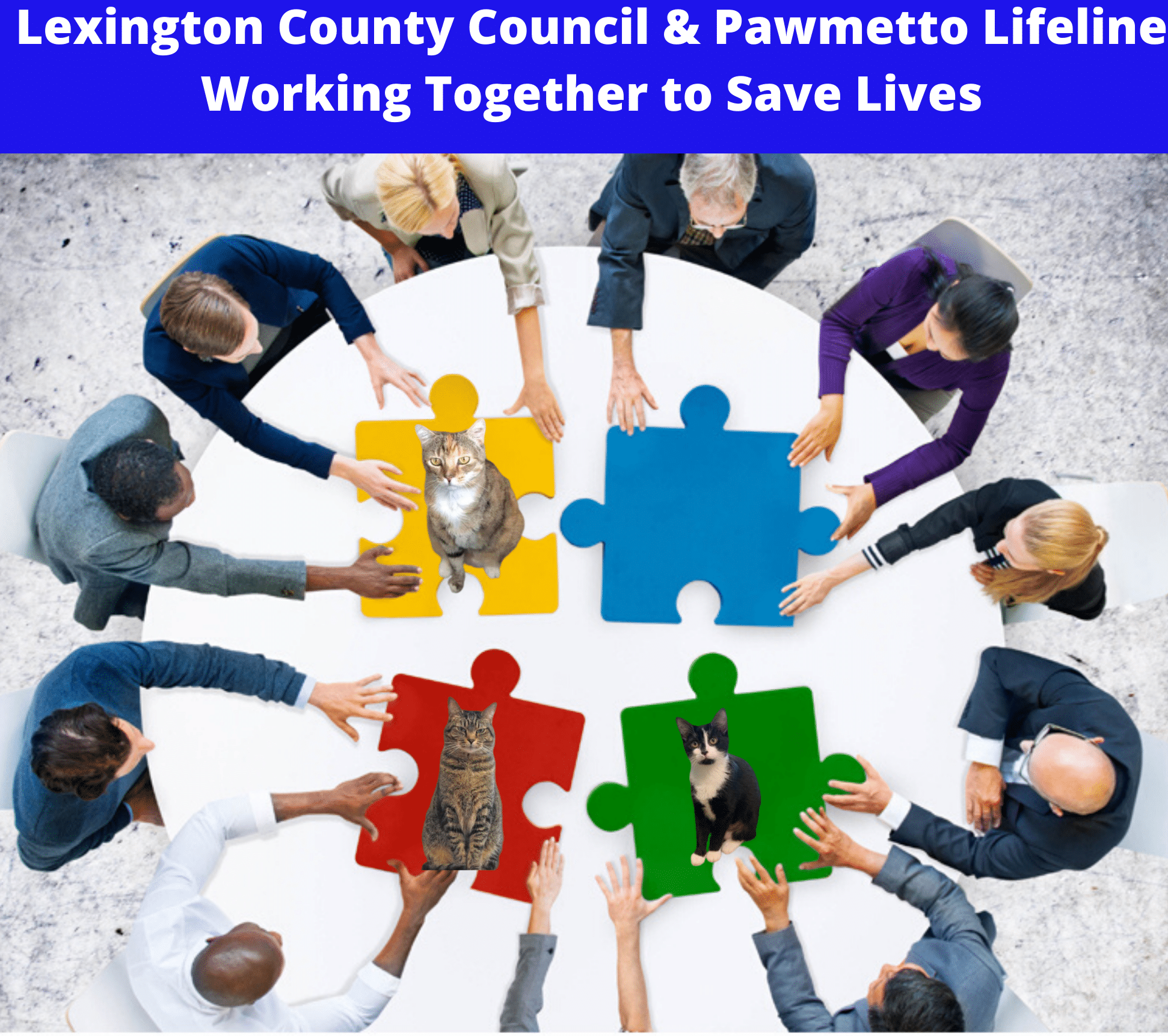 In an effort to create clarity and give assurance to all of our animal-loving advocates in the Midlands and beyond,  below is a summary of the latest updates on our progress with Lexington County Council as it relates to the Nuisance Cat Amendments.
As the official partner of Lexington County for the Community Cat Diversion program, Pawmetto Lifeline representatives were invited to a meeting on June 4th with several council members.  The meeting was initiated by Council members.
Denise Wilkinson, CEO of Pawmetto Lifeline, was invited to speak to the Committee of the Whole of Lexington County Council on June 10th

Both meetings were very productive

Lexington County Animal Care staff and Pawmetto Lifeline representatives are currently working on the ordinance amendments as well as the standard operating procedures (SOP) that will support the ordinance amendments.
Major Points
All complaints made to Lexington County Animal Care about cats will be deferred to Pawmetto Lifeline so our organization can address the issues and work toward a positive resolution.
Trap-Neuter-Return shall be the preferred disposition for all Community Cats complaints unless the cat is deemed adoptable.
The ordinance is relative more so to domestic cats that are creating issues on private property.
Every effort is being made by Lexington County Council to support and enhance the Trap Neuter and Return program
The focus of all the efforts with Lexington County Council and the staff of Animal Care as well as Pawmetto Lifeline is to resolve the issues in a positive manner with the caretaker/owner of the cat and the property owner OR to ensure that there is a life-saving option for the cat should it be impounded and not reclaimed.
There is a public hearing on June 23rd.
We are asking that all negative attacks on Lexington County Council cease.  With our recent meetings and extensive communications, we believe we are all working together toward the same common goals.
We are forever grateful to our supporters for being the voice for our companion pets.  If we need you, we know you will be there to continue to be their voice and we are grateful.
PLEASE THANK OUR COUNCIL MEMBERS FOR WORKING WITH PAWMETTO LIFELINE ON A POSITIVE OUTCOME AS IT RELATES TO THE ORDINANCE CHANGES AND THE SOP. WE WILL CONTINUE TO KEEP YOU UPDATED!