Have you ever found yourself rushing to the vet to pick up your pet's medication refill? What if it were shipped to your front door? 
Convenient, Affordable Medications Directly to Your Door!
FREE heartworm test (dogs) or FREE annual vaccines (cats)
Medication delivered to your door before it is due. 
Auto-shipping means you never have to worry about forgetting!
All medication is filled and verified by an SC-Licensed Pharmacist
Free Shipping! 
All proceeds benefit homeless pets of the Midlands
We are proud to offer:
Heartworm & Flea Prevention 
Trifexis
Interceptor Plus
Interceptor for Cats
Credelio
Cheristin
Revolution
Bravecto
Tri-Heart
Simparica
Medications
Trazodone
Enalapril
Furosemide (Lasix)
Vetoryl
Prednisone
Apoquel
Galliprant
Carpofen (Rimadyl)
Fluoxetine
Amitryptilline Tablets
and more...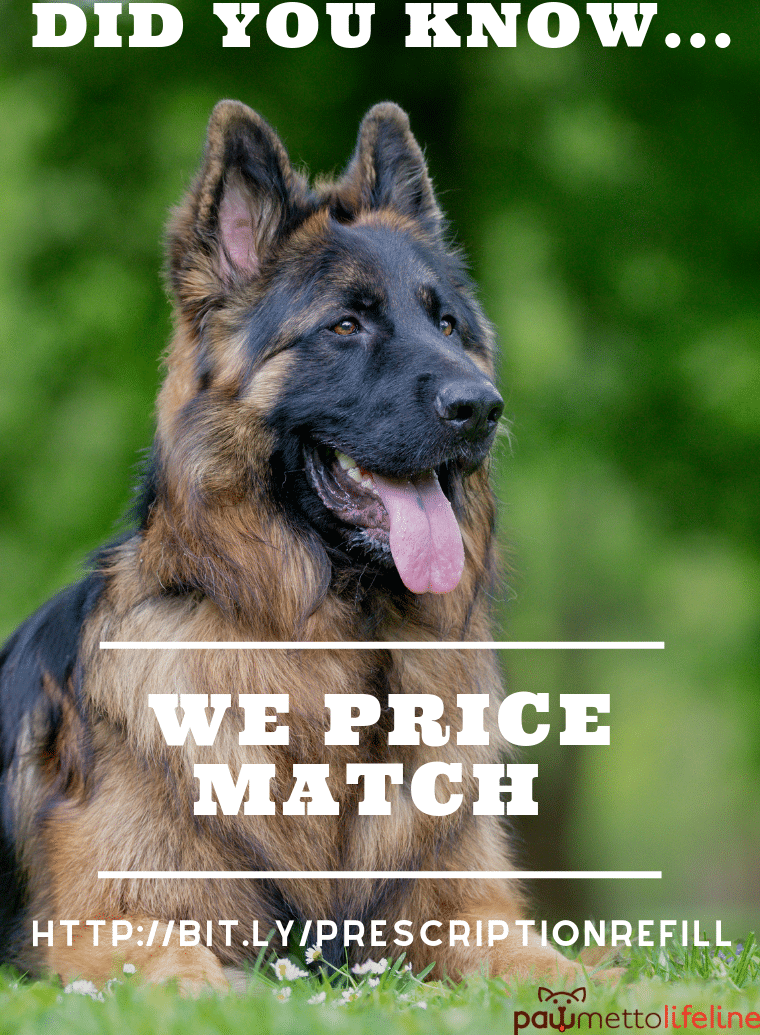 Prevention Pricing for Dogs
Heartworm Prevention for Dogs
| | | |
| --- | --- | --- |
| Heartgard | 1 dose | 6 pack |
| 0-25lbs | 17 | 45 |
| 26-50lbs | 18 | 55 |
| 51-100lbs | 19 | 65 |
| | | |
| --- | --- | --- |
| Revolution | 1 dose | 6 pack |
| 0-5lbs | 26 |   |
| 5-10lbs | 28 | 117 |
| 10-20lbs | 29 | 119 |
| 20-40lbs | 30 | 126 |
| 40-85lbs | 31 | 127 |
| 85-130lbs | 32 | 160 |
| | | |
| --- | --- | --- |
| Trifexis | 1 dose | 6 pack |
| 5-10lbs | 31 | 110 |
| 10-20lbs | 31 | 111 |
| 20-40lbs | 31 | 115 |
| 40-60lbs | 31 | 119 |
| 60-120lbs | 31 | 121 |
| | | |
| --- | --- | --- |
| Sentinel Spectrum | 1 dose | 6 pack |
| 2-8lbs | 19 | 58 |
| 8-25lbs | 20 | 59 |
| 25-50lbs | 21 | 70 |
| 50-100lbs | 22 | 82 |
| | | |
| --- | --- | --- |
| Interceptor Plus | 1 dose | 6 pack |
| 2-8lbs | 17 | 48 |
| 8-25lbs | 18 | 49 |
| 25-50lbs | 19 | 59 |
| 50-100lbs | 20 | 69 |
| | | |
| --- | --- | --- |
| Tri-Heart Plus | 1 dose | 6 pack |
| 0-25lbs | 16 | 34 |
| 26-50lbs | 17 | 41 |
| 50-100lbs | 18 | 51 |
| | | |
| --- | --- | --- |
| Simparica Trio | 1 dose | 6 pack |
| 2.8-5.5lbs | 28 | 136 |
| 5.5-11lbs | 29 | 139 |
| 11-22lbs | 30 | 141 |
| 22-44lbs | 31 | 152 |
| 44-88lbs | 32 | 157 |
| 88-132lbs | 33 | 159 |
| | | |
| --- | --- | --- |
| Advantage Multi | 1 dose | 6 pack |
| 3-9lbs | 28 | 110 |
| 9-20lbs | 28 | 110 |
| 20-55lbs | 28 | 110 |
| 55-88lbs | 28 | 110 |
| 44-88lbs | 28 | 110 |
| 88-110lbs | 28 | 110 |
Flea Prevention
| | | |
| --- | --- | --- |
| Bravecto | 1 dose |   |
| 4.4-9.9lbs | $61 |   |
| 9.9-22lbs | $61 |   |
| 22-44lbs | $61 |   |
| 44-88lbs | $61 |   |
| 88-123lbs | $61 |   |
| | | |
| --- | --- | --- |
| Credelio | 1 dose | 6 pack |
| 4.4-6.6lbs | 26 | 103 |
| 6.6-12lbs | 27 | 104 |
| 12-25lbs | 27 | 106 |
| 25-50lbs | 28 | 107 |
| 50-100lbs | 28 | 109 |
| | | |
| --- | --- | --- |
| Nexgard | 1 dose | 6 pack |
| 4-10lbs | 27 | 123 |
| 10-24lbs | 28 | 126 |
| 24-60lbs | 29 | 129 |
| 60-121lbs | 30 | 132 |
Prevention Pricing for Cats
Heartworm Prevention for Cats
| | | |
| --- | --- | --- |
| Heartgard | 1 dose | 6 pack |
|   |   |   |
| 5-15lbs | $17 | $45 |
| | | |
| --- | --- | --- |
| Interceptor | 1 dose | 6 pack |
| 1.5-6lbs | $17 | $48 |
| 6-12lbs | $18 | $58 |
| 12-25lbs | $19 | $68 |
| | | |
| --- | --- | --- |
| Revolution | 1 dose | 6 pack |
| 0-5lbs | $26 |   |
| 2.8-5.5lbs | $27 | $121 |
| 5.6-11lbs | $28 | $126 |
| 11-22lbs | $29 | $129 |
| | |
| --- | --- |
| Bravecto Plus | 1 dose |
| 2.6-6.2lbs | $48 |
| 6.2-13.8lbs | $48 |
| 13.8-27.5lbs | $48 |
| | | |
| --- | --- | --- |
| Advantage Multi | 1 dose | 6 pack |
| 2-5lbs | $28 |   |
| 5-9lbs | $28 | $98 |
| 9-18lbs | $28 | $98 |
|   |   |   |
Flea Prevention for Cats
| | | |
| --- | --- | --- |
| Cheristin | 1 dose | 6 pack |
| One Size | $24 |   |
Frequently Asked Questions
Prescription Auto-Refill Program Frequently Asked Questions
Why does my dog need a heartworm test every year?

The FDA requires all dogs to have an annual heartworm test to ensure the effectiveness of the medication. Also, with a yearly test, heartworms can be detected early and treated before extensive damage can be done to your dog's heart and lungs. 

How long does it take to receive my pet's medication? 

You are billed 10 days before your pet's medication is due to be given. This allows a grace period in the event there is a billing issue, USPS delay, etc. 

Where is my pet's medication coming from? 

Our pharmacy partner, Pets First Choice, is South Carolina's ONLY pet's only pharmacy. They are based in Columbia, SC, and are locally owned & operated. All medications are FDA and manufacturer guaranteed and filled by an SC-Licensed pharmacist. 

What if my pet's weight changes or I need to update my address? 

You can easily let us know of your pet's updated weight or your information through email (prevention@pawmettolifeline.org), text (803-814-3934), or phone (803-465-9156). 

Why should I enroll in the Prescription Auto-Refill Program instead of purchasing from another online pharmacy?

When you enroll in the Prescription Auto-Refill Program at Pawmetto Lifeline, you are not only helping your pet stay healthy, you are helping the hundreds of homeless pets in our care receive the medical services and care they need before finding their forever home since 100% of the proceeds are used directly toward their care. 
You can rest easy knowing your pet's medication is safe, made in the USA, and filled by a licensed pharmacist
You will receive a FREE annual heartworm test for your dog or FREE annual core vaccines for your cat
We offer price matching! 

What forms of payment do you accept? 

We accept all major credit cards, including Visa, Mastercard, Discover, and American Express. We are unable to accept EFT at this time. 

What if I move out of South Carolina? 

Unfortunately, we are only able to mail medication within the state of South Carolina at this time. 

How do I update my payment information? 

You can update your payment information here or contact us at (803) 465-9156